music video
"Nothing I Owe" is an acoustic music video I shot in October on location in Myrtle Beach. It also has the honor of being the fasted principal photography time in the history of Magic Rabbit Productions. All told, we shot for about 40 minutes. I've been keeping this under wraps for a while (it was a Christmas present!) but it's finally ready to be seen.
James Green – Nothing I Owe
The genesis of the idea came very naturally. We were on vacation in Myrtle Beach, sitting out on the porch of our condo. James Green, guitar in hand, was running through several songs he had written. I was shooting him casually, enjoying the way the neighbor's porch lights looks in the background and not really committing to anything more than a couple cool shots.
He started to play "Nothing I Owe" and the song's meaningful connection hit all of us. Within seconds, Elizabeth and I had switched from "casual shooting" to serious "I'm cutting this video" shooting.
We resolved to film a couple more passes the following day, along the beach. We didn't bring change for the parking meter, so we found ourselves with a mere 25 minutes to get all the coverage we needed.
I strapped on my old Pentax 50mm f/1.4 and we got started. Three song passes and and couple B-Roll shots later and I knew I had all the coverage I needed to  make a stellar video.
It's funny how working within tight time confines makes you so much more efficient. If I had an hour or two, I definitely would have fussed more, working on setups, lighting etc. But there just wasn't time and that makes the video feel more organic. The simplicity of shots is honest and compliments the song well.
I'm not saying I'm going to make a career out of shooting music videos in less than an hour, but it's a fun experience regardless. Sometimes you need a unique challenge to push your creativity a bit.
A few weeks ago I had the chance to go to Drexel's Homecoming party and check out Dj Carnage's set. Afterwards Carnage and I had the chance to sit down talk about what he has in the works. If you aren't familiar with Dj Carnage, I highly suggest you head over to soundcloud and get acclimated quickly. He has has been making major noise in the electronic dance movement with his original and remix work.
His dj sets are also very diverse, and he is here to prove that categorizing him as "trap" producer is an understatement. Check out the interview to see what we can expect from Carnage's album and his thoughts on EDM, Trap and Hip Hop music.
DJ Carnage "Mara" Live
Another live performance from the TLA in Philly – this time it's E1 artist Chris Webby performing Do Like Me.
Never one to get comfortable, I captured this video on a 5DM3 and an EOS M.  The M is the newest addition to my arsenal; its small size but quality performance makes it an outstanding B camera.  Fitted with the 22mm f/2 and Technicolor's Cinestyle profile, it's a powerful and portable little beast.  Now eol, you can find them for a song.  Highly recommended.
Stay tuned for the official interview video coming soon.
Chris Webby – Do Like Me Live at the TLA
"Jake Miller – Sold Out" declares the marquee of the TLA.  I'm back inside, wading through a sea of bodies.  Air Dubai has just stepped on stage, and the crowd is wrapped up in them.  They don't notice as DJ Beatstreet and I are lead through the bar, behind a curtain and backstage.  As I set up, the crowd begins to chant "We Want Jake Miller" over and over.
I love shooting live performances.  It's something that I don't get the chance to do often enough, so I'm always full of nervous energy.  This is no different; it's a combination of the energy of the crowd, the performer and myself feeding off each other.  It's exciting, to say the least.
I spent probably three minutes deciding which lens to take with me into the pit (that's a long time for me).  My final pick was the newest addition to the lineup…a Pentax 50mm f/1.4 Super Takumar from 1964.  Aperture advantage aside, it creates some of the most incredible flares I've seen.  And I'm kind of obsessed with flares.  The 50mm's flares have this elliptical cross shape that you just don't see anymore.
Watch the full video below.  There's an interview coming too, so keep your eyes peeled for that.
Jake Miller – Hollywood Live
Recently, DJ Beatstreet and I had the opportunity to catch up with Slip-N-Slide's Sebastian Mikael for an interview at the Ill Vibe Collective's studio in Philly.  Sebastian brought his guitar along to the interview and, at Beatstreet's suggestion, gave us an impromptu acoustic rendition of his hit single Last Night.
Sebastian was a super chill guy, who's hand singed poster now adorns the wall of my office.
You'll be able to watch the whole interview in a couple days, but here's an exclusive look at the acoustic session.
Sebastian Mikael "Last Night" Acoustic
Keep your eyes open for the full length interview, plus live music and more!  We are closing the year strong here at MRP.
Recently, DJ Beatstreet and I had a chance to sit down and chat with Epic Records artist Gilbere Forte.
Gilbere Forte Interview
In the honor of #TBT (Throwback Thursday) if you aren't in the loop I am reposting my lost interview with Philadelphia area rapper Gilbere Forte. Gilbere is a good friend of mine and his content and concepts from everything to his songs and mixtape concepts have always been a head of his time. Here we talk about his previous record deal, new record deal, his song "Pray" and what we can expect from Gilbere and his camp before his major label album release comes out.

This is the second music video I've shot for Lanice London.  The first, "Chuck Taylor", was filmed last fall and was much more basic.  For "We Not Done Yet" Samuel Hall and I pulled out all the stops.
Making the Music Video
When Lanice London first came to me with the idea for the music video, I knew it was going to offer some unique challenges.  We wanted to create an underground party scene in an abandoned warehouse.  The aftermath of the party forms the central point of the music video: Lanice goes missing and her friends have to find her before the cops do.
The entire music video was shot in and around Philly, including Love Park.  The warehouse was an actual warehouse, which posed some of its own obstacles during filming.
Production
Filming took place over two days.  The first day found us in a dark warehouse in Fishtown.  Dust and metal shavings covered the floor (and later our bags, jackets and clothing).  This was the essence of "underground party".
The entire scene, plus several passes of the song, were captured in a matter of 5 hours. Our cast and crew deserves a tremendous "thank you" for being on top of their game and totally committed to the process.  If it wasn't for their professionalism, the scenes would have never happened in such a short amount of time.
The second day was more of a walk around day, capturing footage as we moved from Love Park up north Broad Street.
Technical Details
The entire music video was shot on Canon 5D Mark III's, using a huge variety of lenses (Sam brought twelve himself).
The underground party, which forms the backdrop of the music video, was lit using a Lowel light kit and a set of DJ bar lights, the latter of which was primarily a set piece.  We used lots of side lighting to create the flares and signature anamorphic streaks.  Exterior scenes were captured using available lighting exclusively.
The video was cut in Adobe Premiere and colored in After Effects, which should come as no surprise to regular readers.  The most obvious digital effects shot (superimposing party footage on Pain's phone at the beginning of the video) was also created exclusively in AE.
We Not Done Yet
In addition to the usual gang, I need to thank Beth, who provided many helps and moral support along the way.  She was an incredible producer, which doesn't even do her justice.
For more info on Lanice, head over to her website or reverbnation page.  Same deal with Playboii Pain.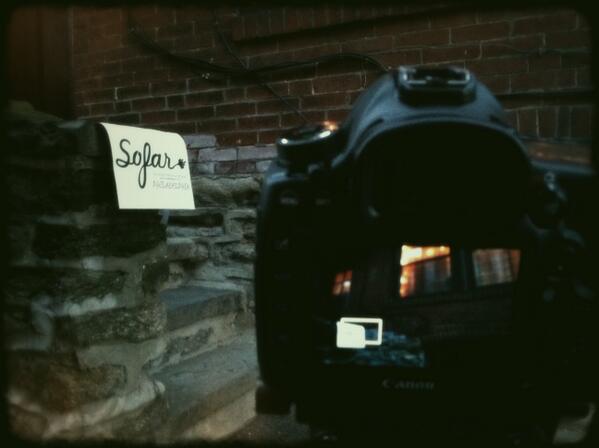 Noah Dickenson and I were back with Sofar Sounds, shooting in the cramped confines of a living room in west Philadelphia.  On the bill this month were Alright, Junior, Kingsley Flood, September Call Up and Christopher KP Brown.
This was the first video I shot with my new 5D Mark III.  I'm the kind of guy who gets almost immediate buyer's remorse over big purchases, even if they are necessary ones. At the time, the 5D felt like a splurge, something I didn't quite need.  I mean, my 7D was functioning perfectly, why did I need to upgrade?
Within minutes of the start of the show at Sofar Sounds, the 5D proved its worth.  I cranked the ISO up to 2500, a daring move on my previous camera (I could push ISO 2000, but that was my cut off).  When we got back and reviewed the footage, the grain was barely visible.  I immediately chastised myself for not pushing further.
Check out the videos below.  While you're at it, head over to the last Sofar Sounds show we shot and watch those videos too!
Sofar Sounds (#333):
Could not parse XML from YouTube
DJ Beatstreet and I sat down with T Mills recently at the Trocadero in Philadelphia.
I actually had the opportunity to catch up with Columbia Records recording artist T.Mills and talk about what has been going on with him. About a year ago him and I shared the stage in Philly at the TLA. I have not heard of him until a month before encountering him & his current single at the time was "Vans On". I was a little weary of the record at first, but over time it grew on me, and when he preformed it… the audience loved it. After leaving that night he has traveled to Europe, toured on the Vans Warped Tour, dropped a free mixtape, got inked up some more and released a new single that is starting to heat up the streets.  Check out the video.
For more from T Mills, check out his live performance at the TLA, supported by Kid iNk and Kirko Bangz.
For more from our artist's interviews series, check out DJ Beatstreet's interview with Krewella.
In January, I had the opportunity to shoot four live sets for Sofar Sounds Philadelphia.  If you haven't heard of them, Sofar Sounds organizes live music events and holds them in regular living rooms.  The music is eclectic, the atmosphere sparks with an almost relaxed creativity and the people are easy – going, friendly and all around awesome.
Noah Dickenson and I rolled in an hour early, grabbed some establishing shots of the room and the people coming in and set up for the first of four acts.  Aaron Brown, DRGN King, The Gallerist and Mo Lowda and the Humble.
Sofar Sounds Pretty Good
We shot on my 7D and Noah's 60D and recorded audio on a pair of Zoom H4N's placed on opposite sides of the room.  These were then mixed together for the final edit.  Recording audio during a live event from only one source can sometimes yield files that are too heavy on one instrument and too light on another, and mixing two separate sources helped to eliminate this issue.
All the videos were cut in FCPX by Noah.  Take a moment to check them out and head over to these artist's sites.
Could not parse XML from YouTube