behind the scenes
Go behind the scenes on Magic Rabbit Productions' original short horror film Mute Fate.
WARNING: SPOILERS AHEAD!
Watch the full movie before reading! You've been warned.
The Fear
Let me start by saying I'm terrified of snakes. Like petrified. As in, if I see a snake I freeze up, can't move and go into a kind of statue – like state of terror. It's been that way my whole life.
There's not a formative moment for me. No Indiana Jones – esque defining event that would forever shape my fear. They were just always a dark element for me; I didn't like the way they moved or looked or sounded. It's a very base reaction.
I used to work in the shipping and receiving department of a retail store. I don't know how the idea came into my head, but every time I opened a box of packing peanuts, I always paused before reaching in. No matter what the manifest says, you never really know what's in that box. There could be anything underneath the styrofoam and there's nothing you can do but reach your hand in and find out what's waiting for you.
I never found anything unusual in their packages, but my quasi – phobia was enough to inspire the marvelously talented Elizabeth Green several years ago. She wrote down my fear in a short horror story called "One Way Out."
I'm the type of person who craves control. And sometimes the best way to take control of a fear is to use it creatively.
Development
When I started developing the story, I decided to cut it down significantly. Because I and altered so much, I wanted to rename the story. I called the piece Mute Fate for two reasons. One is the literal use of the word – there is no dialog at all so our main character's fate is literally "mute".
The second reason comes from an old radio play from the Escape show: "A Shipment of Mute Fate". The "mute fate" in the show is a bushmaster, which hides out on a ship at sea and terrorizes the crew and passengers.
My own mute fate needed a strong visual symbol, since it was only to be discovered in the last shot of the movie. I chose a cobra, with its iconic hood and posture, to be the antagonist.
Production
Now for the gritty technical details…Mute Fate was shot exclusively on a 5D Mark III using Magic Lantern's raw hack. The credits sequence was shot with a Canon 85mm f/1.8, the rest of the movie with a Zeiss Flektogon 35mm 2.4 and a Super Takumar 50mm f/1.4 and the aforementioned Canon 85.
The entire movie was lit with Genaray SpectroLED lights, which are quickly becoming my favorite lighting package. They're light, run cool and give a nice blue light, as opposed to many other LED's which tend toward greenish hues. The lights are massive and not focusable, but their falloff is so pleasing that it more than makes up for it.
Three boxes were employed – one empty and sealed, one open and filled with packing peanuts and one half – box that allowed the snake to be manipulated by the puppeteer. The packing peanut box was specially rigged with a tube inside that could be pulled back and forth, shifting the peanuts inside and creating the illusion of a slithering mass rising from the box.
The address on the box is something of an in – joke for horror fans. Robert Blake, Dunwich, Arkham, and even Massachusetts are all nods to some of my favorite Lovecraft horror texts. Poor Robert just can't catch a break.
 Post Production
I had been working with J Farell since the inception of the film.  Since I was creating what amounted to a silent film, I knew the score would have a major impact on the emotion of the piece and he and I worked very closely developing the sound of Mute Fate. The introduction and credits, which I call the "overture" feels like an old 80's horror movie to me. It's bombastic and creepy and it brings you right into the movie. It says "Pay attention – you're about to see something scary!"
The entire movie was cut on Premiere CC and graded in After Effects. I'm not a Da Vinci Resolve guy, probably because I've been using AE for years. I can work faster and more efficiently there and it integrates better with the workflow.
The grade was heavily influenced by The Fourth Kind, which used over – saturated practical lights to an awesome effect. I did something similar, accentuating the orange glow from the lamp in the first half of the movie.
 Overcoming the Fear
So, I guess the question I need to answer is: Did it work? Am I able to look at snakes without the icy terror?
Yes and no. As with everything, it's a process. What Mute Fate gave me was a chance to take control of my fear and share it with others. By doing this, I was able to transform it from an emotional response into a weapon. This movie is less about me overcoming my fear and more about me learning how to wield it. It's not just mine, now it belongs to all of us.
So next time you get a package in the mail, open it carefully. You may be surprised by what is inside.
Another entry in my catalog of pulp/suspense photography, this is For Love or Murder.  This image is based off The Glass Triangle, old pulp magazine cover that I discovered recently, at the excellent pulpcovers.com.  They have been my muse for the past few months.
Making the Image
This image was lit with two LED light panels, my new toys.  I used a 7100T 312 as a key on Elizabeth and Spectro-LED 9 as a fill on me.  The "daylight" setting on them is not a perfect match (the 7100T is a little more purple), but they are close enough that it  doesn't seem to be a true problem.  If I was to invest more money in the kit (and I probably will) I would drop it into the 7100's anyway.  They have custom color temperature controls, magnetic diffuser panels and run off rechargeable batteries.
This was shot on a 5D Mark III, using the 24-105 f/4.  I had intended to shoot this image a while back, but during setup the weight of my 5D broke the head of the cheap tripod I was using.  The camera fell lens first, and shattered the UV protector on my lens.  The drop wedged the frame of the filter tight enough that I couldn't remove it and had to take it to a WebbCam, our local photography specialist, for repairs.  The lens escaped unscathed, luckily.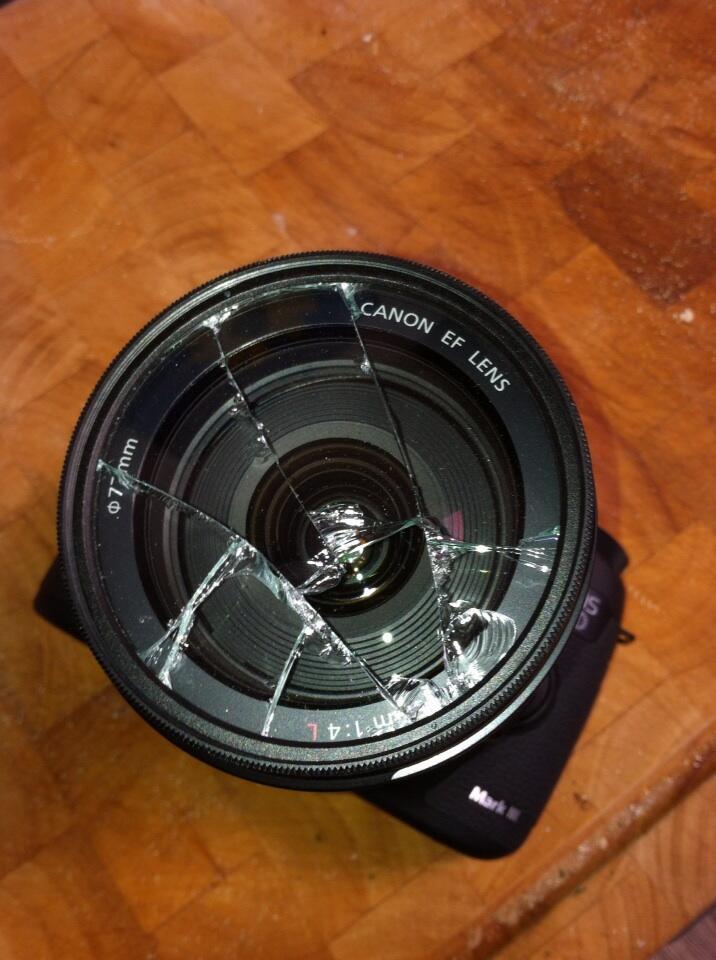 Pulp vs Suspense
I like to classify what I do.  It helps when people ask "What do you take pictures of", expecting you to say "flowers" or "weddings" or something like that.  I've struggled with what to say and finally landed on the phrase Pulp Photography.
As I described before, I draw a lot of inspiration from the pulp of the 40's and 50's; Suspense Radio, EC Comics and the like.  These simple stories strike a chord with me, and beg me to recreate, interpret and breathe life into them.
This is the second music video I've shot for Lanice London.  The first, "Chuck Taylor", was filmed last fall and was much more basic.  For "We Not Done Yet" Samuel Hall and I pulled out all the stops.
Making the Music Video
When Lanice London first came to me with the idea for the music video, I knew it was going to offer some unique challenges.  We wanted to create an underground party scene in an abandoned warehouse.  The aftermath of the party forms the central point of the music video: Lanice goes missing and her friends have to find her before the cops do.
The entire music video was shot in and around Philly, including Love Park.  The warehouse was an actual warehouse, which posed some of its own obstacles during filming.
Production
Filming took place over two days.  The first day found us in a dark warehouse in Fishtown.  Dust and metal shavings covered the floor (and later our bags, jackets and clothing).  This was the essence of "underground party".
The entire scene, plus several passes of the song, were captured in a matter of 5 hours. Our cast and crew deserves a tremendous "thank you" for being on top of their game and totally committed to the process.  If it wasn't for their professionalism, the scenes would have never happened in such a short amount of time.
The second day was more of a walk around day, capturing footage as we moved from Love Park up north Broad Street.
Technical Details
The entire music video was shot on Canon 5D Mark III's, using a huge variety of lenses (Sam brought twelve himself).
The underground party, which forms the backdrop of the music video, was lit using a Lowel light kit and a set of DJ bar lights, the latter of which was primarily a set piece.  We used lots of side lighting to create the flares and signature anamorphic streaks.  Exterior scenes were captured using available lighting exclusively.
The video was cut in Adobe Premiere and colored in After Effects, which should come as no surprise to regular readers.  The most obvious digital effects shot (superimposing party footage on Pain's phone at the beginning of the video) was also created exclusively in AE.
We Not Done Yet
In addition to the usual gang, I need to thank Beth, who provided many helps and moral support along the way.  She was an incredible producer, which doesn't even do her justice.
For more info on Lanice, head over to her website or reverbnation page.  Same deal with Playboii Pain.
I was asked to produce a music video for Lanice London for her new track Chuck Taylor.  We decided on an urban walkaround/day in the life style video.
Because the song is about how she wears her Chucks for everything, I decided to use slider shots of her shoes to tie the chorus together.  I recently acquired a slider and was eager to test it out.
Shooting the Music Video
The first day of shooting took place at Milk Boy Studios and was the perfect way to get started.  We hung in the background, capturing Lanice and Rich Quick working on Lanice's new album, Murphy's Law.  It's been a while since I've been in a recording studio, and it was great to dive into the environment again.  We really fed off the creative energy that night and had a wonderful time.
The next day was our "story day", when we filmed the plotted scenes for the music video.  We shot the opening of the video and the barber shop scenes in North Philadelphia.  Once again we kept to the background, our intention was just to capture the moments, rather than create a false environment.  We wanted the reality.
Later that day we travelled to the Delaware riverfront and filmed several passes of the song, along with some slow motion B – roll.  The Ben Franklin Bridge in the background is an awesome landmark; it's iconically Philadelphia and forms a spectacular backdrop to the epic waterfront shots.
Day three started on the roof of a parking garage just north of City Hall.  From there we travelled around the area, shooting full and half passes of the song.  Lanice was very enthusiastic and seemed to feed off the energy of the people around her.  More than once, we were stopped by pedestrians interested in who we were, what we were doing and when they could see the finished product.
We finished in underground near the Walnut/Locust stop for the Broad Street line.  It's become one of my favorite places; wide open with pillars and beautiful texture.  Neil Burger probably agrees.
Just outside, we shot a quick interview for the "making of the music video" doc, and wrapped production.
Post Production
Everything was edited in Premiere and graded in After Effects.  Because we used natural light for most of the video, I found myself shooting at high ISO's, especially the first day in the studio.  Magic Bullet Denoiser helps, as does a small amount of digital film grain added in After Effects.
I tended toward a cooler look for this video, with crunchy contrast.  I found cautiously applying large radius unsharp masks helped to make the urban landscape pop.
Behind the Scenes
Samuel Hall was on set, providing B Camera shots and capturing the action for this exclusive, behind – the – scenes documentary.
Additionally, Elizabeth was capturing stills of the shoot.
For more information about Lanice, head over to lanicelondon.com and follow her on twitter: @lanicelondon.
I really like GoPros.  I bought one a few months ago for an adventure trip to Belize (that video is in the works) and fell in love with it almost immediately.  It's a tiny, tough little bugger who now has a permanent space in my camera bag.  There's even rumblings of 24p and Technicolor's Cinestyle preset coming as a firmware update, which would make the GoPro a viable B camera on any DSLR shoot.
For me however, the most useful feature of this camera is the ability to set up a quick, discreet timelapse.
So here is a brief "behind the scenes" look at the day of an editor.  Shot on a GoPro.
Music by Radient X.
We opened principal photography on our new short Sight last Saturday, shooting VFX shots outside on the hottest day of the year.  With our thermometer reading 102 degrees in the shade, we unpacked our gear in a dead end alley in South Philly.  We drew up Sam Hall's old green screen, stretched between two light stands and secured with clamps and rope.
Keeping one eye on the mouth of the alley, Sam Lodise strapped on a set of kneepads and took up a hunting rifle. He trained it on the camera in front of him, his eye steel – cold orbs.
As the day wore on, the camera became too hot to touch.  We applied and reapplied wet towels and ice packs in hope of warding off the dreaded "overheat" warning.  All the while, Sam Hall crouches in front of the camera, squinting down his viewfinder adapter and making minute adjustments to the placement of the rifle.
Sweat poured.  After each take we passed around a spray bottle and took turns dowsing ourselves.  Our spare bottles of water rapidly heated, baking on the pavement.
Finally, the final shot was printed and we wrapped.  We retired to a living room full of Pacifico and South Philly hoagies.  Another day in the life.
* All photos courtousy of Elizabeth.  See more of her work on flickr.
This is a music video I shot with Samuel Hall for Roman last month.  I'll be writing up a blog post on it soon, going into some of the technical details of the shoot.  Until then, enjoy.
It's 4:00am Sunday morning, and I've been up for twenty – two hours.  I'm sitting in front of
Samuel Hall's
editing suite in South Philly.  He's just finished color correcting the last shot from our movie.
"Okay," he says as we watch the yellow render bar slowly creep.  "What's left?"
Somewhere, deep inside my barely – operational brain, a list begins checking itself off.  Fix the dialog for the second half of the movie.  Record and add foley.  Write, record and mix music.  Render a master and compress an online.  
Is it four in the morning?  Shit.
"I think," Sam says, "for our health, we should get some sleep." 
Bill Dwyer
Photo by Samuel Hall

*****
Romantic Comedy?  Difficult.  
Action/Adventure?  A dream come true.  
Space Opera?  We should probably just concede.  
Sam clicks the "Start" button and the GFC's website refreshes as it loads our prompt.  We hold our breath.  
"Email me a copy of the script," Sam says before he leaves.  It's 10pm Friday and we've just finished "Blood" a conspiracy thriller.  It will be our life for the next forty – four hours.
This is not a regular screenplay.  It's four pages long, almost all dialog.  It's missing scenes because they're unnecessary to put down on paper.  It's a cross between Fringe and the Bourne trilogy.  We wrote it in two hours.  We've spent the last two planning out shots and logistics.  We've contacted the actors and set up times.  In short; we've done all we can for the night.
Sam heads home and I email him the script.  We go to bed, where we barely sleep.  I dream that a fat diamondback rattlesnake is chasing me.
It's 11:30am Saturday. 
Bill Dwyer
, our everyman hero, sits on a bench in the middle of a crowded Rittenhouse Square.  Next to him is Alexander Sando, a scientist who might not be as crazy as he sounds.  He's just told Bill that he needs to inject him with a secret serum; the cure to a deadly virus.
"I don't mind assisting…" Bill begins.  This is the line he can't screw up.  This is the prompt line, the one we were assigned, the one that has to be perfect.  
A girl, no older than 9, runs through the shot, yelling.  For a moment, the actors hold it together, then break into laughter.  
"Cut," I say, grinning.  The father apologizes profusely, but we laugh it off.  This isn't big budget.  Hell, this isn't even low budget.
I look over to Sam.  He's crouched behind his camera, laughing and shaking his head at the absurdity of it all.  
Bill Dwyer, Alexander Sando, me and Beth Gorman
Photo by Samuel Hall
It's 4pm Saturday and Andrew Feierabend is pointing a pistol at Bill's head.  Bill is tied to a chair in the middle of a derelict old building.  The floor is giving way in one corner.  Rain hammers the windows outside.  
"Who am I?" Andrew asks, rage coloring the edges of his words.  "I'm the man with the gun."
Bill looks into his eyes, fearful.  "Where's the man with the balls to use it?"
The entire crew breaks into laughter.  Beth Gorman goes over to muss Bill's hair.  It's too kempt for a guy who's just been kidnapped.
It's 8pm Saturday and Billy Zane is talking to Jessica Fletcher.  Meghan Marvin lies on a yoga mat on the floor, occasionally offering words of criticism to the characters on Murder She Wrote.  I'm sitting on the couch.  Sam's in a recliner.  His cat, Rooth, is curled on his chest.  
We're waiting for the footage to transcode.  I close my eyes, trying to force myself into sleep for a few minutes.  It isn't working.
"I have coffee if you want it," Meghan tells me.
"I didn't know you drank coffee," I say.
"I don't generally," she explains, "but sometimes I just really crave it."
Rooth puts her paw on Sam's face.  It looks like she's trying to push his mouth open.  
Beth Gorman and Elizabeth Green
Photo by Samuel Hall
"I can't do this anymore," I say.  I push away from the computer and stand up.  It's 11pm Saturday and I've been syncing dialog with images for two hours.  The first scene is almost done.
Sam takes over and begins to cut the chase scene.  I drink grape juice and wonder if I'm going home tonight.  
It's 2am Saturday and I know I'm sleeping here.  The air conditioner hums in the window, the sound accented by the pitter patter of rain on its metal exterior.  
Our cut is done.  The movie is five minutes and forty – two seconds.  
"I think I can do the color correction," Sam tells me.
I feel like I'm going to die.  I can actually tell that parts of my brain have shut off.  I remember an episode of

SGU

where they talked about sleep deprivation.  They said that sections of your brain will actually go to sleep, even when you're still wide awake.  
Sam exports the XML and opens it in Premiere, then After Effects.  I keep seeing something out of the corner of my eye.  It looks like a human figure.  
Bill Dwyer and me
Photo by Samuel Hall
*****
Rooth jumps on me.  I'm on Sam's couch.  I don't know what time it is.  I've slept soundly and deeply.  
I check my phone.  8:45am.  Sunday.  I get up and take the coffee out of the fridge.  I consider making half a pot, then decide that's stupid and brew a full one.  I take my first cup upstairs.  It's in a black Ikea mug.  
Sam's already there, in his pajamas.  He's only been up a few minutes.  The day is fresh and I feel surprisingly good.  
11am Sunday.  I feel like shit.  I ate a bowl of shredded wheat mixed with soy milk and vanilla ice cream.  Then I took two painkillers for my headache.  I feel hot.  I think I'm going to vomit.  
Sam's music fills the room.  He's deep in Garageband, pounding out drums, cellos and pianos.  I go down to the basement and record foley.  
Bill Dwyer and Andrew Feierabend
Photo by Samuel Hall
It's 3pm Sunday.  Sam's other cat, Chelsea, wanders over his desk, rubbing herself against his chin.  He reaches around her to use his keyboard.  He doesn't throw her down.  
We're doing the final mix: dialog, music and foley.  Sam doesn't like the final piece of music.  He sits down at his keyboard, almost in a rage.  He re – scores the entire end of the movie.  It's better.  
"I just want my life back," he says.  It's a half joke.  Only half.  
It's 4pm Sunday and it's done.  We stand at the island between Sam's living room and kitchen.  He makes beans and I eat ice cream.  Upstairs, the computer compresses an online version of our forty – eight hours of effort.  
"We have to re – integrate with society now," Sam says.  This is true.  We've lived this movie for the past two days.  There has been nothing else.
I make a joke about the "civvies" and put my ice cream in the freezer.  We go upstairs to upload the movie to the website.  We are exhausted, pushed to the very brink of our endurance.  
We are alive.  
[vimeo http://www.vimeo.com/23794003 w=400&h=225]
Watch it here.